Currently, residential solar photovoltaic (PV) systems, as well as batteries and energy storage on a residential scale, are not affordable for the average person.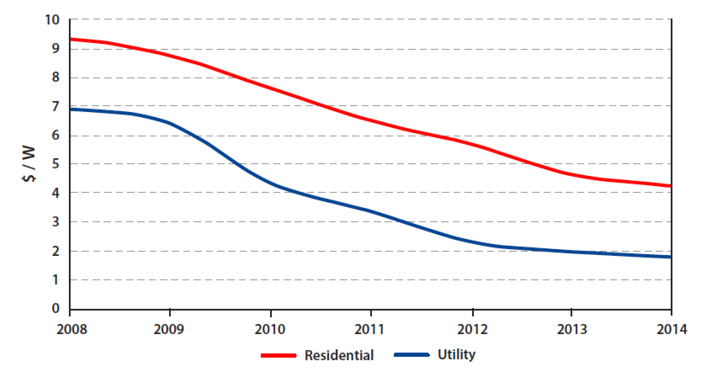 Batteries and solar PV will become more affordable (as shown above) over time with ever-improving technology and decreases cost as the market for energy storage and residential solar PV installation matures becoming more competitive. Solar PV technology has improved rapidly over the past few decades, especially with lots of federal funding into research and development of solar PV technology. This, in addition to the many subsidies available to homeowners interested in installing solar PV systems, has driven down the price of the solar PV cells, compared to the other costs involved with installation (Figure 2).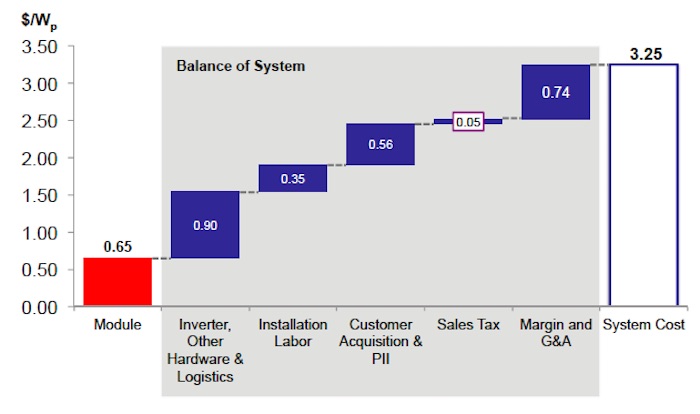 This means that most of the cost of residential solar PV installations come from balance of system (BOS) costs. BOS costs are less obvious costs that include things such as labor for installation, inverters, and racking and installation hardware. These BOS costs are what make solar PV less affordable for many people. Efforts to decrease these costs to levels seen in Germany could make solar PV more affordable for many interested homeowners. As the costs of residential solar PV systems continues to become more affordable for homeowners over time, the affordability of residential energy storage systems are also expected to decrease, as battery technologies using more widely-available materials, rather than rare minerals, are developed.
References